Product Description

Looking for comfortable and breathable particulate respirator n95 mask with a valve that makes is easier to breath than the normal particulate respirators? Protector mask that feels enjoyable even after extended use? Mask with valve that contours to your face?

Mission accomplished!

Tiger Tough presents you the professional Particulate Respirator with Valve NIOSH-Approved N95 Mask with BREATHE CLEAN TECHNOLOGY by Tiger Tough.

Skillfully designed with a valve & microfiber filter to provide reliable respiratory protection of at least 95% filtration efficiency, it is your protection mask for particles such as those from grinding, sanding, sweeping, sawing, bagging, or other dusty operations.

Why Tiger Tough Particulate Respirator with Valve N95 Mask?
- advanced electrostatically charged microfiber filter
- unique valve is designed to release hot, humid exhaled breath quickly
- NIOSH Approved
- high breathability
- enjoyable to wear in extended periods of time

This high quality respirator with valve is compatible with a variety of PPE, protective eyewear and hearing protection

The particulate respirator n95 mask blends comfort, highest quality standards & protective design for your complete safety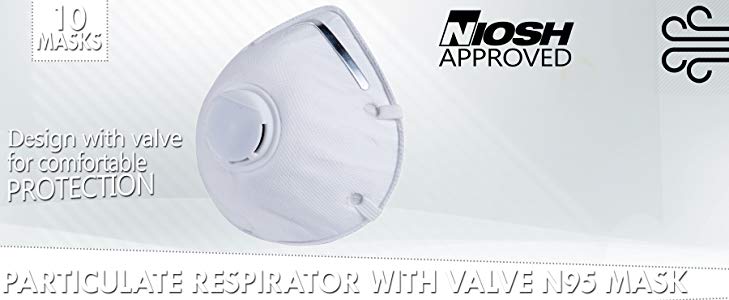 BREATHE CLEAN Valve for added comfort and quality of air intake.
The respirator incorporates a proprietary designed valve with advanced electrostatically charged microfiber filter media designed to allow for ease of breathing. n. This respirator is suited for work situations involving heat, humidity, or long periods of wear. Our unique valve is designed to release hot, humid exhaled breath quickly, which aids in the prevention of unpleasant buildup of heat inside the face mask, which enhances overall comfort.

Adjustable for true comfort
Remastered with amazing comfort and coverage in mind, the face mask features contour fit design that aligns to your face for full protection and seal. The true comfort comes with the inner foam nasal support, which also adds amazing breathability and is adjustable.

Contour fit with adjustable nasal support!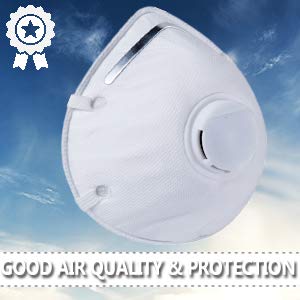 Doesn't feel like you are wearing a mask!
With the right weight, a lightweight feel & 4 adjustable flexible elastic straps that aren't stapled, wear for extended periods of time without undue discomfort.

Wear enjoyably for hours.
Numerous applications – prevent hazardous particles that pose a risk to your health
Ideal for construction, remediation or restoration projects and job sites. Useful for home usage and projects related to sanding, grinding, sawing and insulating airborne particles.

Although their primary recommended use is in workplace environments, being N95 NIOSH Approved with USA standards, these can be used to filter out bacteria, virus, mold, household dust, PM 2.5 and PM 10. This means they can be also used to protect against air pollution.

Note:

- these are disposable & 1 time use masks.
- 10 masks are included in one packag
Product Videos
Custom Field
Product Reviews